Published: Wednesday, 27 July 2016
Updated: Friday, 5 August 2016
Often we consult the I Ching and we wonder, "what is the meaning of this line?", sometimes the comments won't help. Experienced I Ching's students can get help from past readings as they recollect how things turned out the last time they received that line. Beginners have to rely on different books or to seek help on forums.
But there is another way, which is to receive guidance from a spiritual teacher. Those who are familiar with the Eastern religions know about spiritual teachers in Buddhism, Hinduism and Taoism, even though those also exist in Christianity and Islam. The oracle of the I Ching is naturally a spiritual teacher but if you don't get the meaning of one or several lines, the teaching is difficult to receive. It's a tedious process that I have followed to write Taoscopy's comments. So, the best would be to find a spiritual teacher who can master every facet of the I Ching. Such a teacher would need to be very close to God or even God Himself. And this is where Sri Ma Anandamayi can help us.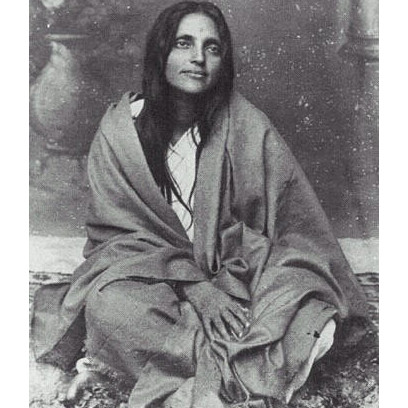 At first glance, Sri Ma appears to be  a great mystic, then She is considered as a saint, then people think of Her as an avatar. And finally some of Her devotees think of Her as God, while others say that "Ma is Ma", meaning that they can't describe Her. During Her time on Earth (1896-1982), She has given a lot of teachings, and was able to answer any spiritual question, just like the I Ching's oracle. If asked, She would have given great I Ching's comments, but that did not happen...
However, while watching videos about Her, I've realized that She had given extra teachings, that Her devotees did not understand at that time.. Those teachings are connected to the I Ching's comments, and She also has illustrated Taoscopy's comments, which made me believe that the oracle who is answering our questions is Her, because those comments have been made under the guidance of the oracle. When I asked the I Ching "Are you Anandamayi?", I have received the playful answer: One manages to convince others. (18.5).
So, my first move has been to warn Ma's devotees that She was the oracle of the I Ching. They answered me with a very nice letter, telling me that even though they were not interested in the I Ching, it was not a surprise since "Ma is universal".
And my second move is naturally to start a serie of blog posts, to show you how Sri Ma can help you understanding the I Ching.
Today, we will examine the mystery of the two small bowls, which comes from the hexagram 41. Here are the comments from Richard Wilhelm's translation:
DECREASE combined with sincerity
Brings about supreme good fortune
Without blame.
One may be persevering in this.
It furthers one to undertake something.
How is this to be carried out?
One may use two small bowls for the sacrifice.
So, what are those two small bowls? It is generally considered that the first bowl is for decreasing the strong, and the second bowl for increasing the weak. It is a very difficult question that has left more than one student of the I Ching clueless. But Sri Ma Anandamayi is famous for answering the most difficult questions in the simplest way possible:
In this video Sri Ma cuts off the speaker: Baba... softly, then Baba! more loudly, these are the two bowls of the decrease. It means that when She cuts off the speaker, she first decreases the attention given to him by speaking softly, then she increases the attention toward Her by speaking more loudly. There is nothing complicated about those two bowls, it's all simple and natural!
This way of cutting off someone is naturally not the monopoly of the most advanced spiritual beings. So, what is the difference between this example given by Sri Ma and the same example given by a TV anchor? The difference is that the most advanced spiritual beings are perfect or close to perfect whatever they do. A seasoned TV anchor could master perfectly the way of withdrawing and giving permission to speak, but on another topic would appear to be hesitating, while a spiritual teacher can be an example on every subject. As a rule of thumb, a perfect master should show no hesitation in any situation, except of course when the situation requires hesitating.
But there is more to say. Taoscopy's comment for the hexagram 41 is the following:
Remove

One loses their support and abandons. Accepting the constraints will arouse sympathy.
First of all, the hexagram is named Remove and not Decrease. Remove is more precise since something is taken from the speaker, and not decreased. Also the comment says that Accepting the constraints will arouse sympathy. So, since Baba, the speaker, has accepted to let Sri Ma speak, She should show some sympathy to him, yes?
If you watch the video up to 1:54, Sri Ma says: "He is happy one who hears, what comes out of the beautiful mouth of Baba". Is it enough sympathy? Since Sri Ma is also the I Ching's oracle, She illustrates also Taoscopy's comments which have been made under Her guidance.
Next time we will continue our hexamination  with a line which  is well known of I Ching's students but much less of the rest of the world: 38.1
The following video shows another occurrence of the two small cups, in a very different context:
They buy items from a shop, and Sri Ma Anandamayi says first to reduce the price by 5 rupees (Rs). The seller declines, then Sri Ma says to augment the price by 5 rupees, so they would pay Rs 80 rather than Rs 75. We have two small cups again here, one for decreasing and one for increasing. The sympathy is shown at 35:47: "He became a devotee of Ma.".
The Hindus describe this as lila, which means God's play.  This is also known in Taoism, because it is described in Zhuangzi's Chapter 2:
You hear the piping of men, but you haven't heard the piping of earth. Or if you've heard the piping of earth, you haven't heard the piping of Heaven
We are instruments. Naturally, such God's play has to be done for its own sake, as if bending according to the situation. Done with intent, it would become a manipulative move. You may wonder if Sri Ma knew the I Ching's comments. She did not need to, this comes naturally. You and me, and even the least inspired being on Earth, can occasionally act perfectly, the difference is that She always acted perfectly.
Images source: Wikipedia