I don't know anything about this situation so I can't really interpret the answer. However as it sounds, you will have to explain yourself multiple times to be understood.
10.1.3.4 (10 > 57)
Situation
10 > 57 - Repeating one's explanation
One starts over from the beginning so that others understand.
Formation
10 - Continuity
One is committed with confidence, in the long term and with a simple goal, without looking for outside help.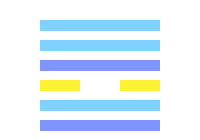 10.1 - Not aiming too high - One is satisfied with what one can do.
10.3 - Broken promises - One does not see what is ahead, so there is a risk of getting pushed around.
10.4 - Putting one's words into practice - One gets by because the support won't move.
Making
57 - Answer
One goes after having been solicited.